Jetsetting at a young age
Oriana is a first-generation Italian-American who has been an international jetsetter since her early childhood. She spent her summers in Sicily and around europe where both of her parents were born and raised.  Oriana has been inspired by the beautiful bold colors of the world and kept those in mind when creating her signature, travel inspired collections which feature an array of semi-precious gemstones and unique color combinations. As the daughter of a well-established interior designer and granddaughter of a couturier, creativity and design are second nature to Oriana.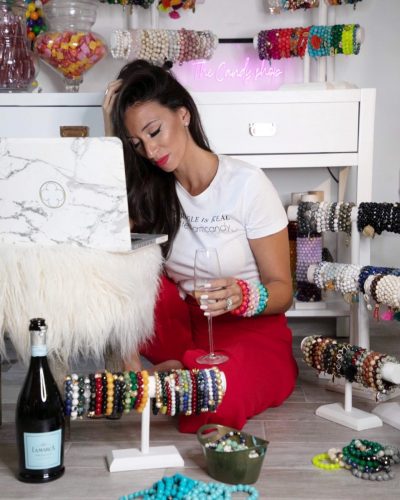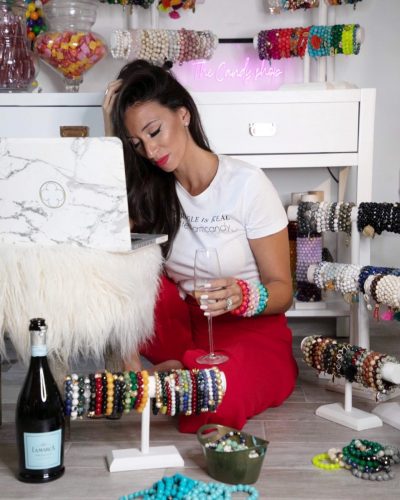 shopping addiction turned into a bracelet making frenzy...
Oriana studied international business at St Joseph's University.  Upon graduating, she began working full time at her parent's specialty tile and stone design center. Running a business is in her blood, having grown up in her parent's store, Oriana grew from part time help after high school to showroom manager where she would design kitchens and bathrooms for her clients. Oriana's background allows her to source stones that fit her collections from all over the world with over 90 carefully selected stones that seamlessly work together.
Oriana Lamarca Designs began as a "shopping addiction", as she affectionately likes to call it. Which organically grew into a bracelet making frenzy and eventually developed into a full lifestyle brand in 2020.  Her passion for handcrafting jewelry sparked from a desire to have one-of-a-kind accessories that accentuated her personal wardrobe and reflected her personal style without breaking the bank. Her accessories feature an array of semi-precious gemstones and unique color combinations, which quickly became a fashion favorite among friends, colleagues, and industry leaders. Oriana Lamarca Designs is currently sold on online and in specialty boutiques.
 
 The jewelry you wear should make you feel unique as an individual and,at the same time, effortlessly communicate your personality with elegance and sophistication.♥ ~ Oriana